My second blog post will describe my experience of purchasing a new logo for my company from 99designs.com. Got the site recommended by a colleague who also works as a freelance developer.
In summary I was quite pleased with the designer-purchaser workflow, the results and the price level. I selected the second cheapest option of $499 which in the end provided me with 355 different logos to select from. However, many of these were duplicates and adjustments from my feedback.
The site lets designers provide designs to you via a design contest. You put in a designer price which the winner of the contests receives after your approval.
The contest consists of these four stages:
Qualifying round (4 days)
Select finalists (up to 4 days)
Final round (3 days)
Select winner (up to 2 days)
The steps involved in starting a new logo design contest are as follows:
Select designs your like
Select your brand style
Select color scheme for your logo
Describe your desired logo
Select package and price level
Pay
Describing my logo
Most steps are quite straightforward and lets you describe the logo you want as best as you can so the designers know what they strive to create. You can also in step 4 provide previous logo work and detailed descriptions to the designers. My descriptions title was the following:
Modern "flat" logo for app company
And my style attributes: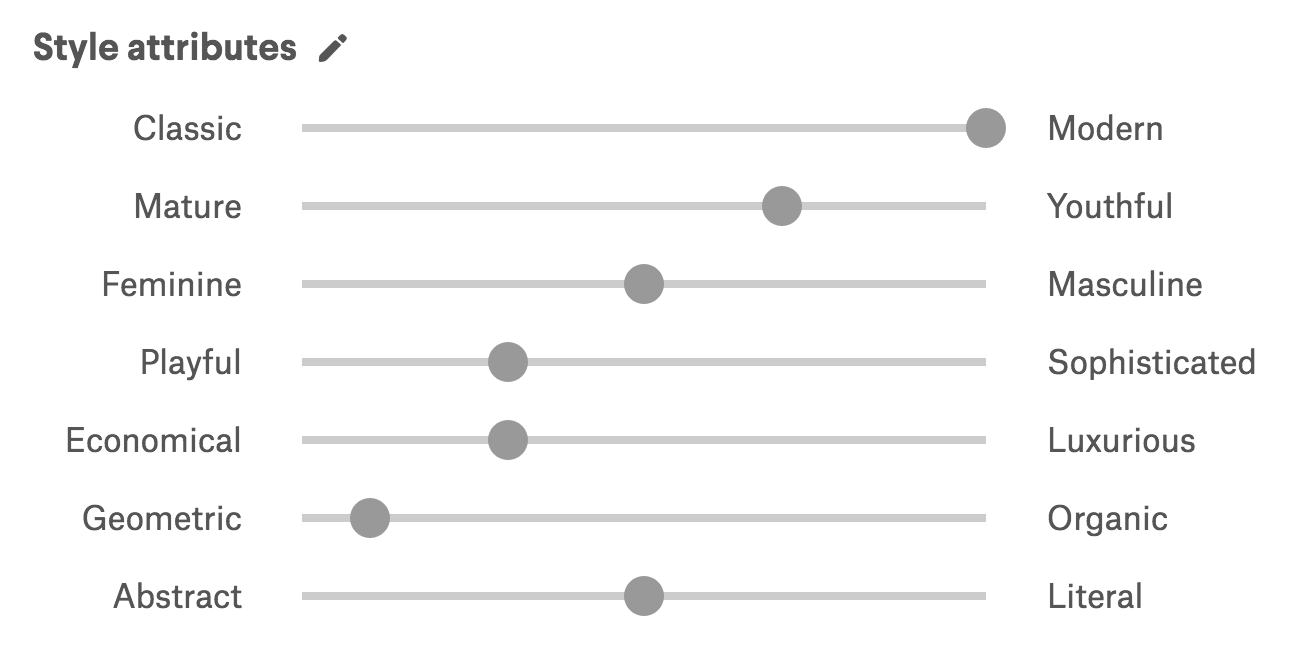 My design examples. There were a lot to select from, but not that many great ones:
And "Notes" section, which is a more detailed description of your logo. I recommend that you put as much text in this one as possible. This will reduce a lot of unwanted designs. This is editable during the contest so you can tweak it based on what logo suggestions you receive.
Could be a logo based of a "a"/"A" sign, or some random abstract shape or a mix. I like the Tinder, Vine, CoreFX logo and similar modern "flat" logos. Could either be one color or more ones matching. Prefer a "curved" logo over straight lines. I like some vivid, glowing colors (or gradients) but should also look good in white against colored background.
The options for price level: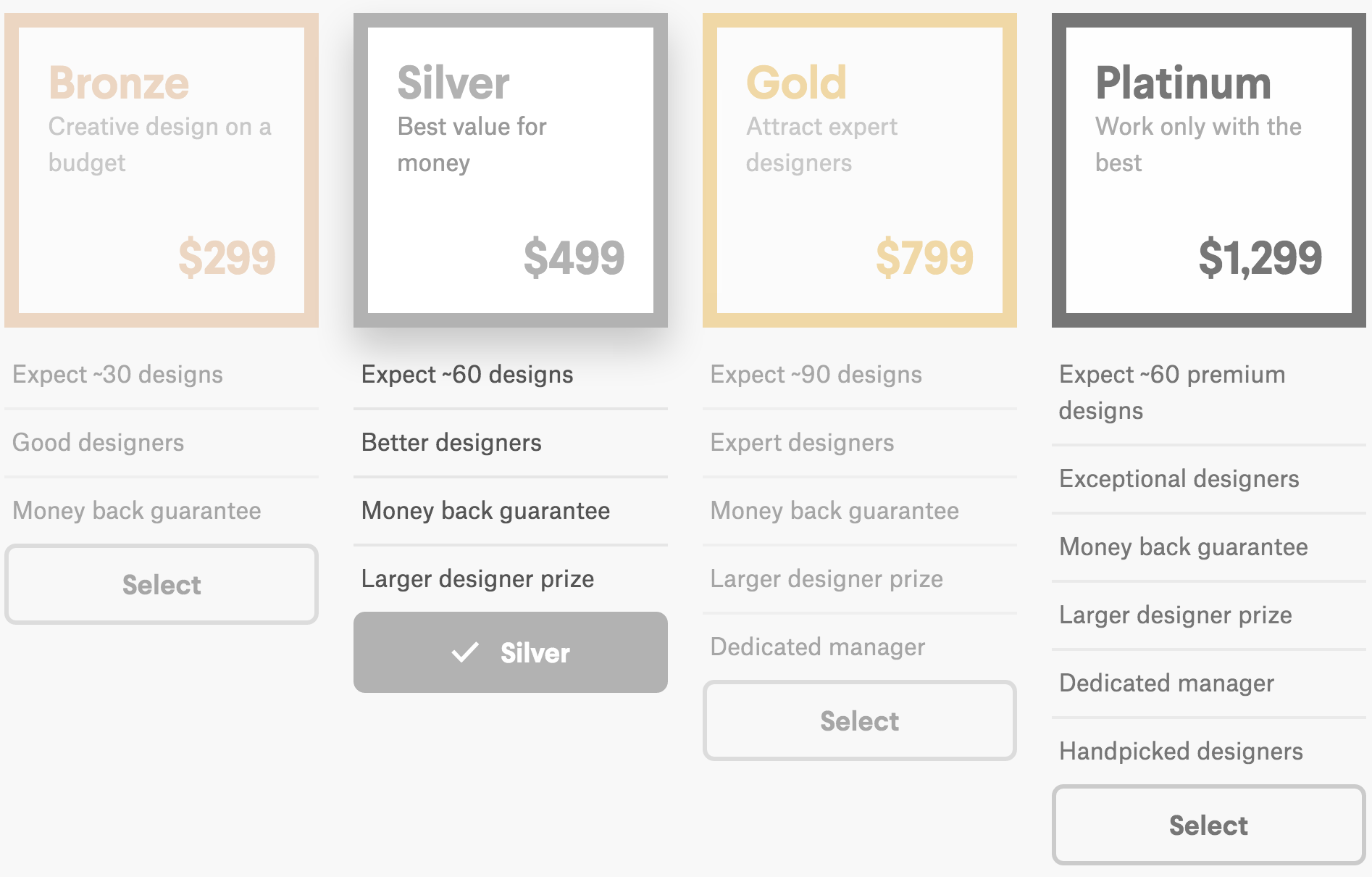 You seem to have the option of getting your money back if you during the "Qualifying round" does not receive any logos to your liking. I never used this option.
The result
In response I got a total of 355 designs from 92 different designers. Most of the was quite bad and not really at all matching my description. About 4-5 of the designers actually made good designs. The site had a great feature of creating a poll and inviting your social network to vote and comment on the different choices you have.
Unfortunately, I cannot publish any of the other logo designs here for copyright reasons. Scroll down a bit on this page for some examples for other logo suggestion I got:
https://99designs.com/logo-design/contests/modern-logo-app-company-638589
One should also note that the fonts are not included in the final designs. Even if all designs are in vector format you cannot later change the font or font-attributes (such as bold, italic). Therefore you need to feedback the designer to make the font the way you want. If you are unsure on what you want, request a different option.
The final logo
After some revisions about the font and the bold-ness of the "app" in "appfrilans" I was pleased with this logo, which I therefor selected: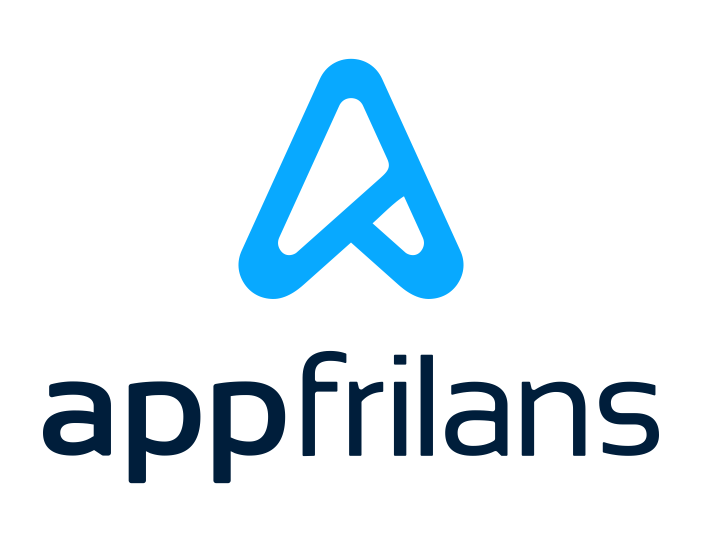 Summary
Overall I was quite pleased with the process, outcome and price level of 99designs. One thing I noticed in the terms was a clause about "non-exclusive rights" to the design. I guess this means that the designer can resell the same design to more than one buyer. Hopefully this won't be the case or any cause of problem in the future.
There did also seem to be an issue about designers copying each other. I got some messages about this and some of the logos were rejected/removed. I guess since the designers was able to see each other's work, it was possible for them to copy or to be inspired by others. This was however never a problem for me as it did not concern the designs I was interested in.
 + Price level
 + Overall design/purchaser process
 + Poll feature
 + Quality/quantity of designs
 – No fonts included
 – No exclusive rights to designs?